Use of machines and tools
In the Public Workshop , we can have a large number of stationary machines you use. Use of these machines is included in the rent of a workbench, as is the use of the available hand tools. You are free to bring your own electrical and/or hand tools, but we also have a large range of power tools for rent (seperatly).
Learning how to work with the machines
We can teach you to securely work with our machines or even learn to get more out of a machine you own. Please make an appointment if this is the case.
Annual inspection of electrical machines
We can , if desired, do a checkup of your machine(s) (anything with a cord or batteries) along the Health, Safety and NEN3140 guidelines. This annual inspection is required by law for companies and other institutions.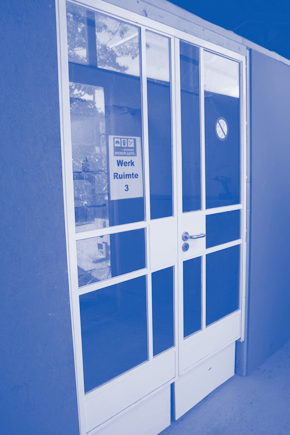 Format saw
Also known as a panel saw or saw table. We have 2: With the large one you can saw serious sheets of wood (glued, pressed or HPL of up to 3.2×3.2 meters). The 2nd saw we have can saw 2.5×1.25 meters. Both can also cut diagonally and cut diagonally at 45 degrees. The saws are depth adjustable and there is a pre-zipper saw on it that prevents you from getting a frayed edge on the underside of the cut for laminated board material, for example.
Scallop saw
We also have a scalloped saw. Optically a compact size saw, but specifically designed to cut solid wood beams lengthwise.
Flatbed
The function of this machine is to plane (solid) raw wood flat and square. In an opening between 2 flat plates, a roller with chisels rotates to smooth out any curvature in the wood (usually by passing over it several times). Then this flat part can be held against a vertical stop and the process repeated. This creates one right angle and flat angle in the beam. The maximum width is 50cm.
Thickness bench
This large cube is similar in operation to the flattening machine, but it is "closed". A roll of chisels can take several millimeters off a solid beam (never sheet metal) each time to arrive at the desired thickness. The maximum wood dimensions that can be carried through are 53x30cm.
Bandsaw
This is an out of shape jigsaw designed to cut curved lines. You can also use it to scallop, cut and saw pins. It works by means of a saw ribbon of almost 6 meters that runs on two large wheels.
Crosscut saw
This saw is designed to cut beams, boards and strips to length. It also allows you to cut and tilt two sides up to 45°, with the saw blade at an angle. Finally, you can use it to cut half-wood joints by adjusting the height.
Column Drill
A fixed drill on a large pole or on a table (we have several) that can rotate at different speeds in either direction. Because the machine is adjustable in height and your workpiece can be clamped, you can drill small and large holes quickly and accurately, with little danger of, for example, knocking the wood away.
Long hole drill
This classic is designed to make long and deep holes and slots in doors, for example, to connect profiles or make lock holes. The many levers take some getting used to before the right combination of movements is found.
Wood lathe
This can be used to make all sorts of things round from square rough wood (preferably already partially rounded with a planer): legs, knobs, candlesticks, etc. The workpiece is clamped and starts to turn, and then you start to machine it with special hand chisels, which you put on the so-called "leaning trowel".
Vertical sanding bench
This mega sander allows you to also get the sides of a piece of wood square and smooth, round corners or even sand at an angle (by adjusting the table at an angle). Because the sanding belt also oscillates (goes up and down), it is used better, becomes full less quickly and gets less hot.
Table milling machine
The router and edge router some people may know for, say, giving edges of woodwork the desired shape a we both have too) , but this is its big brother (and also known as a spindle router). This can be used to make beveled edges, slots, pegs or profiles to wooden beams on a much larger scale, for example for window frames. The spindle can be set at an angle and there are countless shapes so called "spindles". 'profile knives' for sale that can be inserted into the universal head.
Grinding stone
When tools need sharpening, this is often the right machine. The dark stone (hard) is for coarser work and the white (soft) for finer work. It is important to cool the tool regularly with water to prevent burning.
Central exhaust system
To avoid having to work in all the dust (and that of others), there is a large extractor outside that is connected by pipes to all the large woodworking machines. Inside are several more smaller ones. We also try as much as possible to use our larger waste wood to fire our wood stove and thus heat the workshop again.
Electric welding machine
We have these in both large and small sizes, and they work with rods (called "electrodes"), which melt in a special way, and thus a weld is created. Practice makes perfect!
MIG welding machine
The device for most accessible way of welding (read: fast results). Here, additive material is passed through the welding torch (the part with the handle) in wire form when you press the button. We have several of these, including one that is suitable for MIG welding of aluminum. The right shielding gas also plays a role here, but whether something is really tight and looks nice is a matter of making meters.
TIG welder
Following a similar principle to the plasma cutter, an electric arc connection is made between the tip at the handle (the welding torch with tungsten electrode) and the workpiece. This melts the material to be welded and flows together (whether or not by adding additional material). With this, very nice welds can be made, with a steady hand and a lot of skill.
Spot welding machine
2 large 'fingers' press the sheet material together and then a desired amount of current is passed through the material for the set time, concentrated at 1 'point'. The material properties of metal (read: surface resistance), causes the 2 parts to weld together. This welding technique is suitable for thin sheet materials, where distortion due to too much heat input is undesirable.
Plasma cutter
This variation on the principle of a welding machine does not join anything but rather melts and blows away material, making it possible to cut free forms in metal up to 6mm thick. It looks very easy and is a lot of fun, but you are working with liquid material of over 1000 degrees. Click here for a short film
Clamping table
If you have really precise welding work and/or need to make a series with exactly the same work pieces, this welding table is the tool to work faster and more accurately. We are very careful about it though, that's why you'll find a short instructional video here.
Backstand sanding belt
This sander is primarily for deburring metal parts (removing the sharp edges), both on the front and the top (under the cover).
Crosscut saw
We have these in both large and small sizes, and they work with rods (called "electrodes"), which melt in a special way, and thus a weld is created. Practice makes perfect!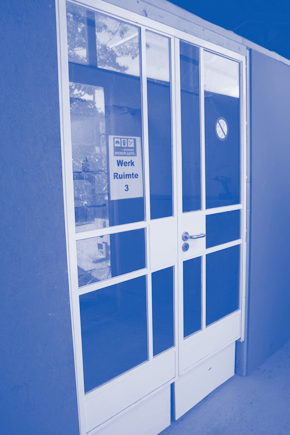 Column Drill
This saw is designed to cut solid bar, hollow sections or flat strips of various metals to length. We have 2: one for the larger profiles and the other for the smaller work. You can cut at different angles (miter) with both two sides. Special coolant keeps the saw from overheating.
Hydraulic press
This scaffold allows you to get parts in or out, deform or punch them with a force of up to 10 tons and still just by hand.
Plate rolling machine
This is the oldest device in this section, but still useful for bending metal sheets or strip (the thickness depends on how wide and what material it is) with a radius to no later than the thickness of the rolls. Even a little taper is possible.
Press brake
This is also an oldie but still useful for bending or 'setting' metal sheets, up to 2mm thick (depending on what material it is) and 60cm wide, with a sharp fold.
Cutters
With this device it is possible to cut thin sheet material (depending on the type up to 3 mm.) by hand straight over a length of about 45cm.
Oxyacetylene torch
With this controlled flamethrower it is possible to heat things (to be able to disassemble or even bend something), but also to cut and even weld. In all cases, more or less experience is needed to do this safely and properly.
Welding fume extraction
Quite a few harmful substances are released during extreme heating of metal and especially welding. In addition to fine particulate matter, these include ozone and other combustion products. For this purpose, extraction units are available to take the air away from the workplace (highest concentrations) and filter it (nuisance other users). Unfortunately, it does make some noise.
Lathe
We have these in both large and small sizes, and they work with rods (called "electrodes"), which melt in a special way, and thus a weld is created. Practice makes perfect!
Milling machine
This colossus is a precision instrument and can move in all kinds of directions and in many positions in order to remove (mill) material with very small tolerances from in or clamped workpieces.
Table drill
A fixed drill that can run at different speeds. Because the machine is adjustable in height and equipped with a stop and, if desired, a machine clamp, it is possible to drill holes in quick succession, with little danger of, for example, knocking off the workpiece.
Sandblasting booth
This cabinet is a bit like an incubator, looking at the pane of glass and the built-in gloves. Inside, a (metal) object can be placed, the paint of which, for example, needs to be removed. Inside is a syringe attached to a hose. This blows grit (fine but sharp grains). This blasts the surface to be treated clean.